We were tasked with launching the revival of Santa Barbara's famous El Encanto hotel, which Orient-Express had purchased and chosen to restore to its former 1930s glory. With its private villas and proximity to LA, El Encanto had always been known as a destination where Hollywood's rich and famous could relax away from the cameras. Our "Embrace Anonymity" campaign leveraged this history, and won SK+G the Orient Express North American account. I wrote every word. The samples below are from the pitch deck.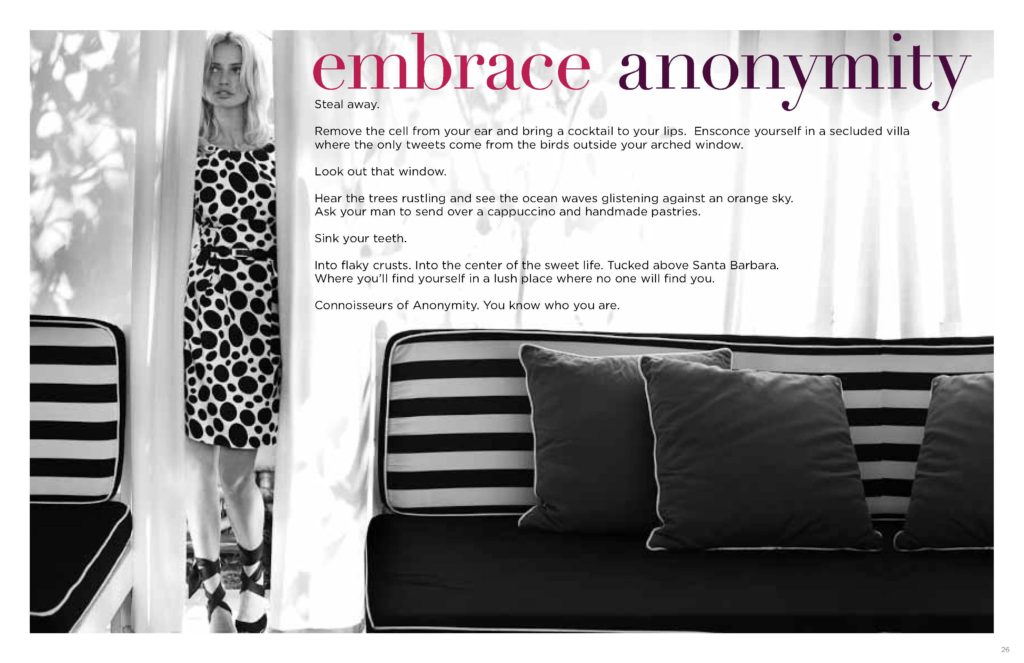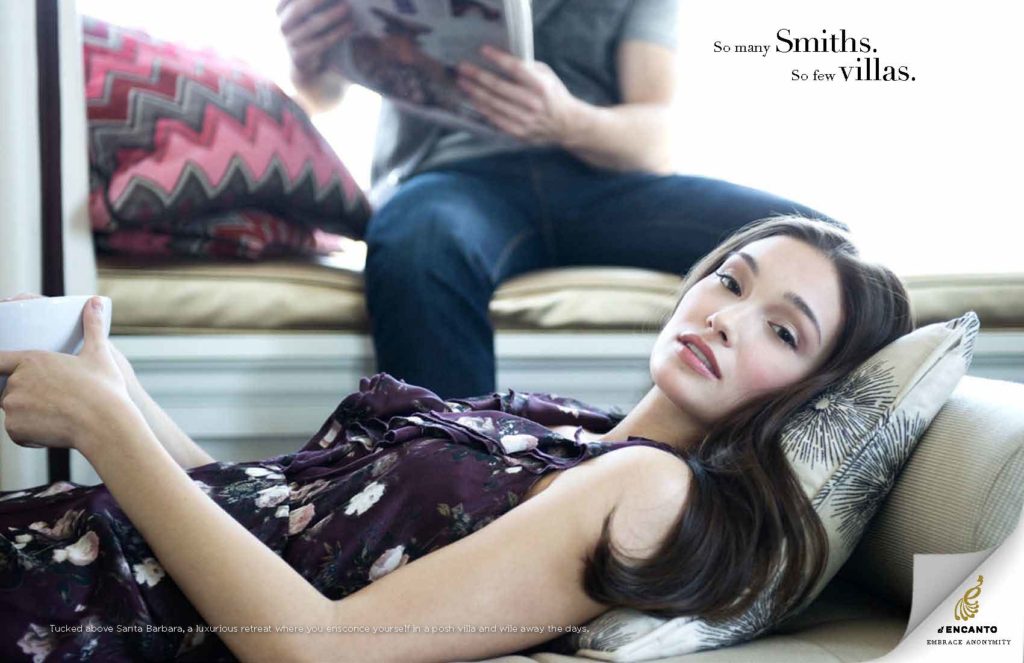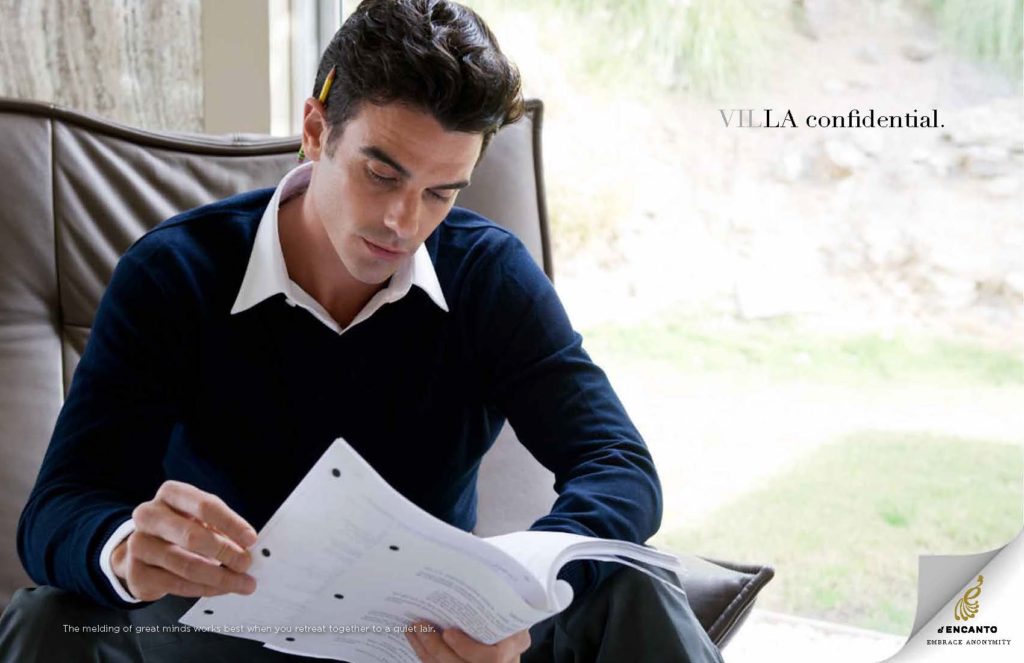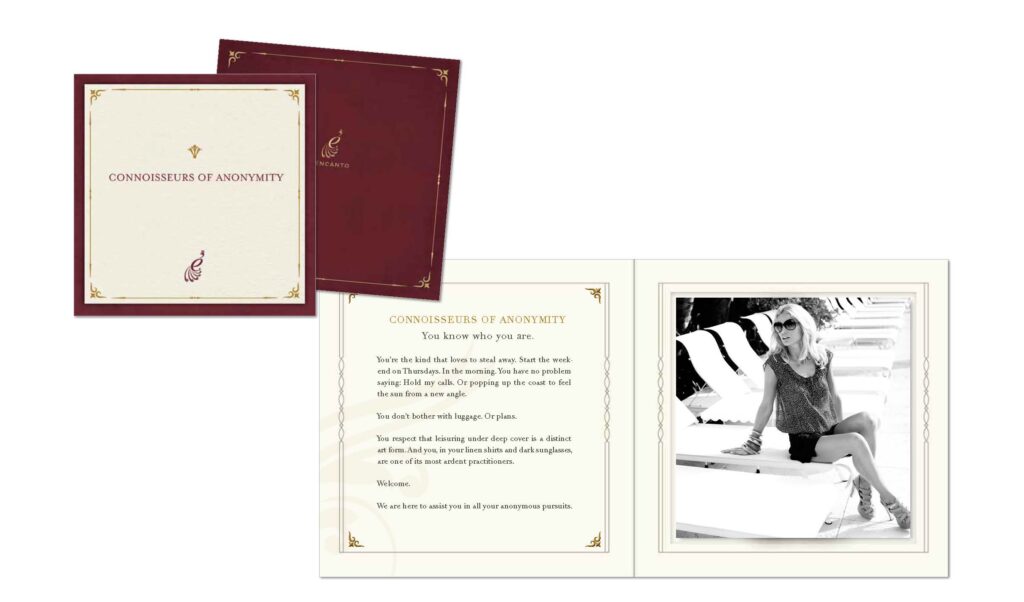 CONNOISSEURS OF ANONYMITY
You know who you are.
You're the kind that loves to steal away. Start the weekend on Thursdays. In the morning. You have no problem saying: Hold my calls. Or popping up the coast to feel the sun from a new angle.
You don't bother with luggage. Or plans.
You respect that leisuring under deep cover is a distinct art form. And you, in your linen shirts and dark sunglasses, are one of its most ardent practitioners.
Welcome.
We are here to assist you in all your anonymous pursuits.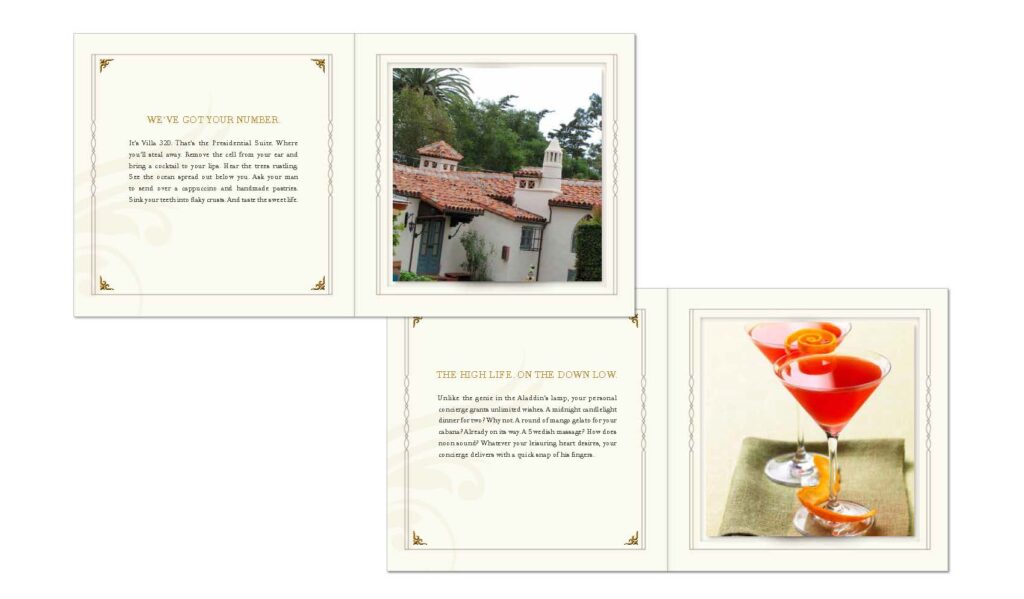 WE'VE GOT YOUR NUMBER
It's Villa 320. That's the Presidential Suite. Where you'll steal away. Remove the cell from your ear and bring a cocktail to your lips. Hear the trees rustling. See the ocean spread out below you. Ask your man to send over a cappuccino and handmade pastries. Sink your teeth into flaky crusts. And taste the sweet life.
THE HIGH LIFE. ON THE DOWN LOW.
Unlike the genie in the Aladdin's lamp, your personal concierge grants unlimited wishes. A midnight candlelight dinner for two? Why not. A round of mango gelato for your cabana? Already on its way. A Swedish massage? How does noon sound? Whatever your leisuring heart desires, your concierge delivers with a quick snap of his fingers.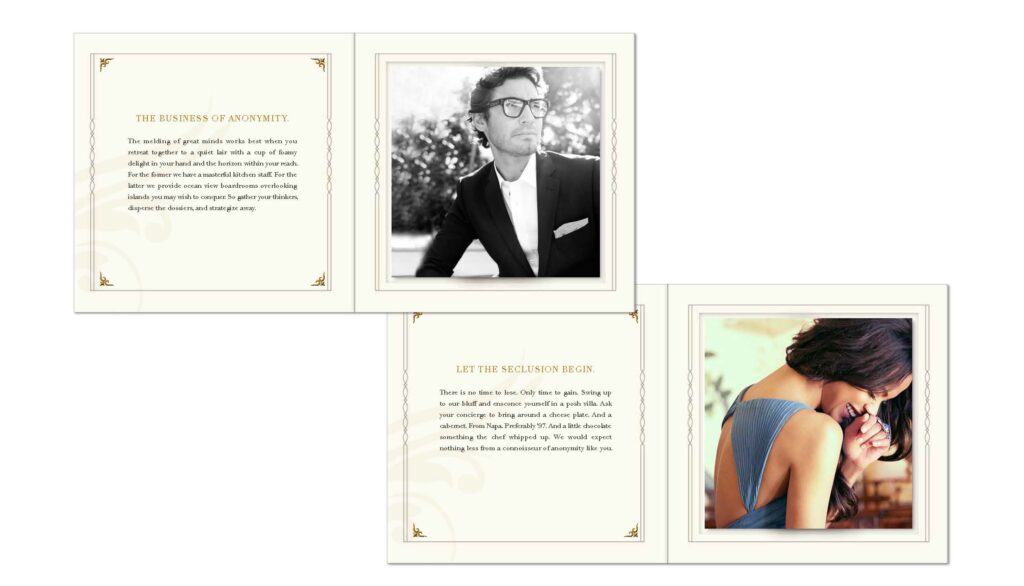 THE BUSINESS OF ANONYMITY.
The melding of great minds works best when you retreat together to a quiet lair with a cup of foamy delight in your hand and the horizon within your reach. For the former we have a masterful kitchen staff. For the latter we provide ocean view boardrooms overlooking islands you may wish to conquer. So gather your thinkers, disperse the dossiers, and strategize away.
LET THE SECLUSION BEGIN.
There is no time to lose. Only time to gain. Swing up to our bluff and ensconce yourself in a posh villa. Ask your concierge to bring around a cheese plate. And a cabernet. From Napa. Preferably '97. And a little chocolate something the chef whipped up. We would expect nothing less from a connoisseur of anonymity like you.